Charlotte, North Carolina

SERVING THE GREATER SOUTH CHARLOTTE, NC AREA
Families and businesses in the South Charlotte, NC and surrounding areas can breathe a sigh of relief when they need junk removed, thanks to Troops Haul Junk. We're a full service junk removal and demo company offering trash and debris removal at a higher caliber of service. We'll remove any unwanted items taking up space in your home and do all the heavy lifting so you don't have too! What's more, we'll also be sure to clean up and leave your home in better condition than we found it. We're also a Veteran & First Responder owned and operated company and take great pride in creating business ownership opportunities for those who've served.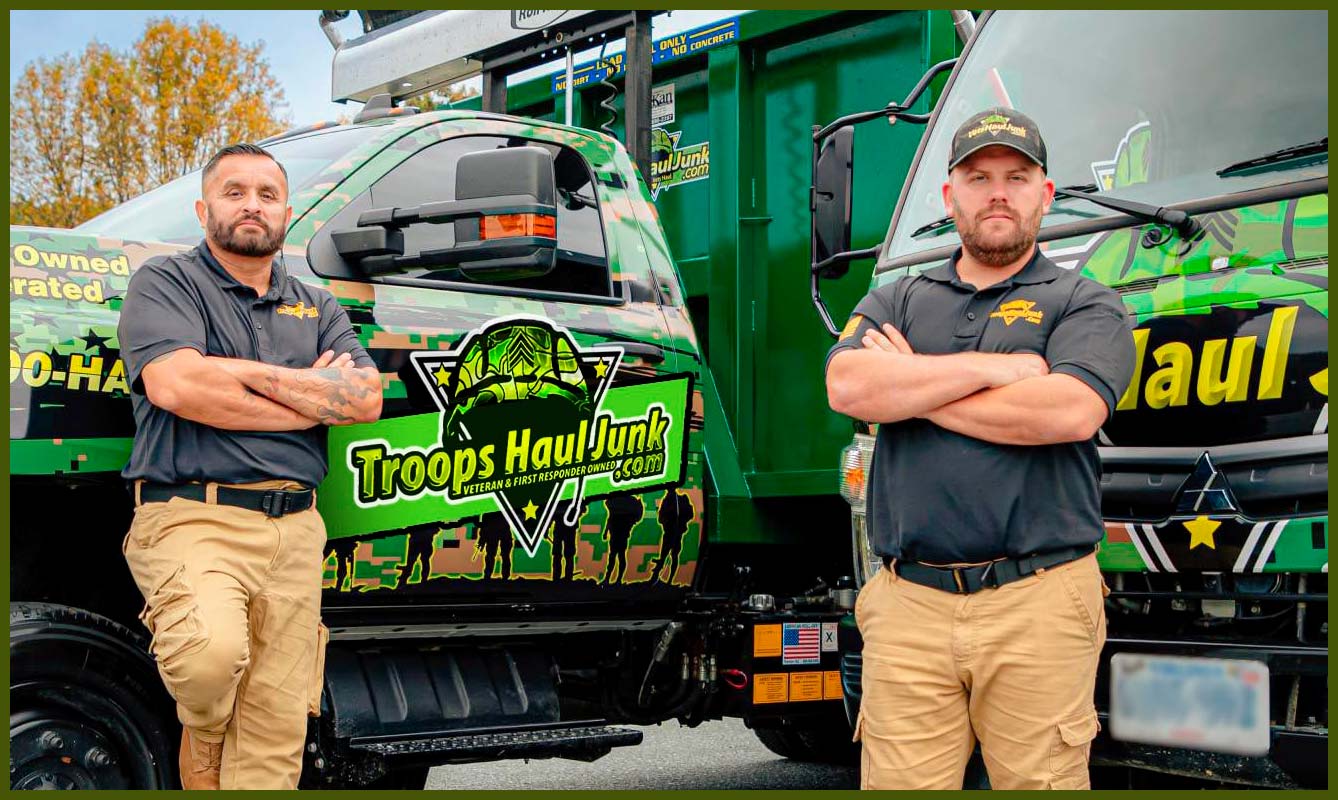 TROOPS HAUL JUNK
We're dedicated to providing business ownership opportunities to veterans & first responders as owners of their very own Troops Haul Junk franchise. We also believe in community and strive to support charities and good causes that help the veteran and first responder community. As a result, we've built a reputation of service and good stewardship in every community we serve around the nation.
Shannon has been married for three years and has one son. He currently resides in Charlotte, NC, where he enjoys time with his family, growing his business, and strengthening his family bond. Shannon is an avid wakeboarder and lake nut who loves over-landing.
He is an automotive gearhead and enjoys an active lifestyle. Following in his fathers footsteps, he enlisted in the US Navy shortly after graduating from Appalachian State University in 2010 with a Bachelor of Science in Business Administration and a minor in Entrepreneurship.
Shannon currently serves as a US Navy Seabee and Petty Officer second class with his reserve unit. In 2023, Shannon decided to go into business for himself as a Troops Haul Junk franchisee. He's excited to build a solid foundation in his market as he embarks on his journey of business ownership and service to community..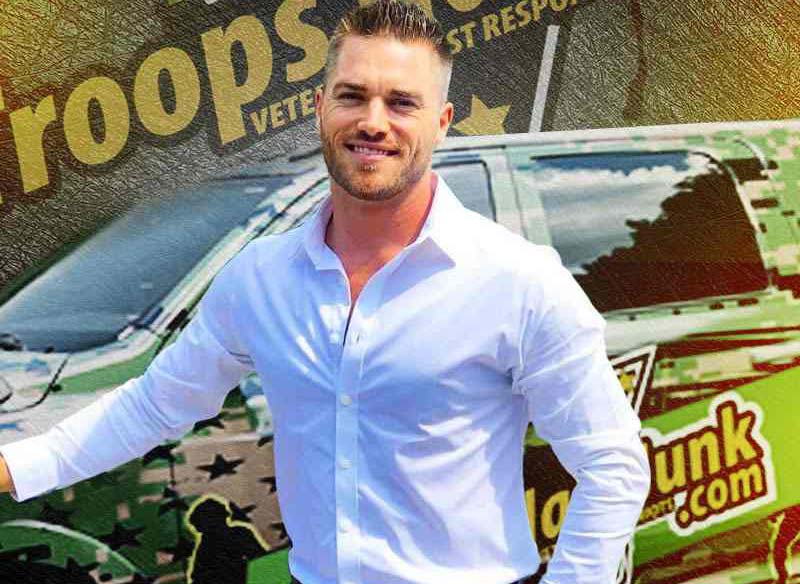 Charlotte, North Carolina
Charlotte is a bustling North Carolina city known for its dynamic commercial hub, Uptown. Uptown offers an educational experience with the Levine Museum of the New South, which explores post–Civil War history and provides guests with an up-close look at history. Step up your interactive game when you dive head-first into Discovery Place's whimsical assortment of available exhibits and activities. Last but not least, NASCAR enthusiasts can peruse the Hall of Fame to recognize auto racing at its utmost level. Exciting films make it even easier to grab onto that racing marvel.
Junk Removal in Charlotte, NC
We are a full-service junk removal company in Charlotte, NC, dedicated to helping those who have bravely served our country. Our company appreciates Veterans and First Responders. We ensure that using our services is an investment in supporting these extraordinary individuals. We understand the importance of time management and are committed to helping clients quickly eliminate unwanted items. We provide around-the-clock service for various needs, such as general junk removal, appliance removals, and even electronic waste recycling.
We firmly believe that investing in the communities that Veterans & First Responders serve– allows us to recognize their courage for service and bravery. Our customers are exactly why we continually aspire to give back and deliver the best possible solution for helping take away clutter.
CONSTRUCTION DEBRIS REMOVAL
Dealing with the mess that construction creates can be tricky business. Without the proper disposal and removal of leftover materials, they can pile up quickly – creating hazardous safety concerns! It also interferes with construction, risking equipment damage and longer project timelines. For your various disposal needs, it is essential to consider the scale of the project and the expertise required. While you may be able to handle specific disposal tasks independently or with your team, it becomes crucial to collaborate with experienced professionals for larger and more complex projects.
Finding a trustworthy and dependable company is of utmost importance when it comes to construction debris removal. In this regard, Troops Haul Junk stands out as a leading provider of professional services. With expertise and commitment to excellence, Troops Haul Junk is the ideal choice for all your construction debris removal needs.
Look no further than Troops Haul Junk for professional help with construction debris removal. At Troops Haul Junk, Charlotte, NC, we understand the importance of keeping your construction site safe and orderly. That is why we are proud to offer comprehensive construction debris removal services. Our Veterans and First Responders team will create a custom moving plan to fit your needs and budget; we can help you develop this plan.
In addition to various labor, our expertise includes dealing with all kinds of rubble—concrete, lumber, metal, drywall, tile, and more. No matter the scope of your project, whether it's a home remodeling endeavor or the construction of an office complex, our team of professionals is well-equipped to handle all your junk removal needs. We are committed to providing efficient cleaning and tidying services, ensuring a seamless experience.
To ensure your extraordinary new journey begins on the right note, we invite you to contact us today. Contact us for more information about our comprehensive range of services and discover how we can assist you in achieving a clutter-free and organized space.
Our experienced team can assist in every stage of the process—from start to finish.
If you reside in Charlotte, North Carolina, and need to remove old carpeting from your home, Troops Haul Junk is here to help! Whether you're embarking on a renovation project and planning to install hardwood floors or dealing with worn-out and stained carpets, the task of carpet removal can be demanding. It involves significant effort and can turn into a messy and intricate home improvement endeavor, requiring careful handling of the old carpet and the adhesive used to secure it, as mishandling can potentially damage your floors.
Considering the challenges involved, we recommend seeking assistance from our qualified professionals at Troops Haul Junk, especially if you find the task daunting. We recognize that not all homeowners wish to replace their carpets, and some prefer to uncover the hardwood floors hidden beneath. That's precisely why we offer expert carpet removal services tailored to your needs.
Our team efficiently removes the old carpet, ensuring proper disposal, and leaves your home clutter-free and immaculate. Our team, powered by Veterans and First Responders, will ensure the job is done correctly and reasonably priced. So if you are considering a carpet removal project in Charlotte, North Carolina, contact Troops Haul Junk, and we will take care of the rest.
It is incredible how household appliances can hold good and bad memories. Good moments are like when family and friends get together to savor delicious dishes prepared with these great appliances that we have at home. Sadly, other moments linger – like that fateful afternoon during the unrelenting heatwave when our refrigerator sputtered its last breath. And what about when the washing machine decided to waterlog the laundry room was in order? Not one of our fondest memories! Removing appliances isn't a walk in the park either: it requires more than pulling a cord out of an outlet. If you have an unusable appliance needing removal, trust Troops Haul Junk, Charlotte, NC, to remove it quickly.
Appliance Removal can be simple and easy. Do not worry if you need the proper equipment; Troops Haul Junk, Charlotte, NC, is here to help! We are powered by Veterans & First Responders with the experience and expertise to quickly and safely remove any appliance, no job too big or too small. In addition to Appliance Removal, we also carry out a variety of other junk removal services catering to residential and commercial needs alike, such as removing household debris, getting rid of office objects, or hauling away construction materials. Whatever your junk removal needs may be, Troops Haul Junk, Charlotte, NC is on a mission --that mission being creating safe, productive homes and offices hassle-free.
If you need to remove large, heavy items like furniture, appliances, or electronic equipment from your home or business location, our Bulky Item Pickups service can help you. Many people feel they have the necessary muscle and know-how for getting rid of small items on their own, but with larger projects such as Bulky Item Pickup, special equipment, expertise, and skill are required. For this reason, hiring a professional company may be the safest way to go. And if you are looking for just that kind of company – look no further than Troops Haul Junk, Charlotte, NC! Trusted by many residents, our team brings the years of experience you need to ensure quick and practical jobs.
In Charlotte, NC, Troops Haul Junk takes great pride in being a Veteran and First Responder-owned company. Our commitment to exceptional quality extends to our Bulky Item Pickup Service, ensuring we deliver excellent service in all areas. When faced with large items that seem challenging to shed, give us a call and allow us to be your helping hand. Coming straight to your home or office, no matter how big or small, we will be upbeat to lend a hand in getting rid of those unwanted materials in the dust. We provide incredible services at incredible services to match every budget! So if Bulky Item Pickup is what you have been thinking about lately, remember Troops Haul Junk, Charlotte, NC, is here to assist you whenever needed.
Moving heavy furniture is daunting and can quickly become overwhelming. Lugging it down hallways through doorways and maneuvering it around tight corners can require strength and experience learned over time.
Additionally, the risks of damaging walls or floors during removal are genuine - a stumble here or an awkward turn there could end with irreversible damage to the furniture and the environment in which you find yourself. Thankfully, Troops Haul Junk, Charlotte, NC, understands the struggles these can bring. Having accrued extensive experience with furniture removal in-home businesses across the county, we have mastered the skillset to ensure quick and harmless ensure rapid and harmless transition.
Are you attempting to move heavy furniture by yourself? Call Troops Haul Junk, Charlotte, NC for help today.
Are you looking for ways to unwind? Hot tubs offer an excellent solution but can require a lot of work. While having a hot tub in the comfort of your backyard may be enjoyable, some cons are also associated with hot tubs. Maintenance ensures your hot tub works properly and operates at peak efficiency. Unsurprisingly, this type of boost is often accompanied by a hefty bill. Take it from us – if you are looking for something more permanent and peaceful, then hot tubs won't give that to you, as not everyone has the money for costly maintenance or replacement down the line once you no longer feel interested in owning one.
To ensure that the dreaded process does not become an agonizing, costly marathon, hire your own Troops Haul Junk, Charlotte, NC! We will handle the demolition and removal, so you don't have to lift a finger. Allow our dedicated professionals to remove your hot tub quickly and efficiently, allowing you more freedom.
Do you find yourself ignoring the clutter building up in your home or workplace? Allowing everyday household or work-related mess to accumulate can become overwhelming mentally, without even realizing it. Troops Haul Junk Charlotte, NC is here to help clear the clutter in your home and mind.

Are you in need of a reputable company that services debris removal? Look no further than Troops Haul Junk, Charlotte, NC. We are Veteran & First Responder owned and operate with a team dedicated to helping our valued customers clear out their excess junk problems quickly and professionally.
Our operations rely on Military Precision, meaning everything will always be handled carefully. We are equipped to take on debris of any size or type, from construction materials to household clutter.
Then, we will dispose of it properly to ensure safety and efficiency during the entire process. No matter your budget and needs, We provide competitive rates so you find long-term value for every penny spent. You can contact the experts at Troops Haul Junk today: schedule a free consultation or ask questions about your specific junk removal goals-- we have the answers.
The daily grind of life can be taxing, but another problem is dealing with Mattress Removal. Many people don't know where to dispose of them. They inadvertently clutter their homes-- garages and basements becoming host to a pile of undesirable eye sores. Improperly disposing of used mattresses can be both frustrating and hazardous. If not done correctly, the stacks of mattresses may topple and cause harm to someone who is not expecting it. Therefore, the quickest, most straightforward solution is to rely on Troops Haul Junk Charlotte, NC. This professional organization specializes in mattress removal & cares about the safety and well-being of you and your home.
Forget the hassle of figuring out how to discard your old mattress. With Troops Haul Junk, Charlotte, NC, a Veteran & First Responder owned and operated business, get rid of it quickly in no time! The convenience of our joint flexibility for pick-up times makes us a distinguished favorite among clients. You will also appreciate our competitive pricing, making us a budget-friendly option than other services on the market. So do not wait any longer. Contact Troops Haul Junk today, and let us remove your old mattresses. We ensure nothing but outstanding service tailored just for you.
Our yards are more than just lawns; they are extensions of our home and an emblem of our pride. We often enjoy spending time in our outdoor bliss, blessed with the beauty of nature. Unfortunately, many yards have a drawback — unsightly and hazardous waste that can quickly pile up, such as leaves, broken branches, etc. This site can become embarrassing and, worse, present potential safety hazards. Many try to tackle this problematic task independently, but it can be challenging and take time without the proper tools or experience. That is when Troops Haul Junk, Charlotte, NC, comes in! Our experts provide efficient yard waste removal services to help you eliminate debris — no hassle or excessive manual labor necessary!
At Troops Haul Junk, Charlotte, NC, we are proud to be a Veteran & First Responder Owned and Operated business. We specialize in Yard Waste Removal, giving you an easy solution for cleaning away all of your unwanted junk! We can handle the job, whether just a few bags of leaves or a lot of brush and bulk waste. Declutter your yard quickly and efficiently with Troops Haul Junk, Charlotte, NC. We will come to your property and remove all your yard waste, disposing of it properly every step of the way – so do not let that pile become an eyesore! With our reliable, professional services, you can have your property looking clean and neat in no time. Call us today, and find out what sets Troops Haul Junk, Charlotte, NC apart from the competition.
Our reliance on technology has skyrocketed, resulting in a fast-growing mound of electronic waste. We create it everywhere by discarding old electronics like mobile phones, computers, TVs, and printers.
Though responsibly disposing of it may sound easy, there is much at risk if done incorrectly. Protecting the environment and ourselves from e-waste with enough diligence and awareness is possible by taking proper responsibility for our electronic waste. If you want to dispose of your electronics responsibly, it's best to use the services of certified e-waste disposal companies. By recycling our discarded devices properly, we can prevent harm to both our health and the environment.
Are you looking for a way to dispose of your e-waste safely? Troops Haul Junk, Charlotte, NC, offers E-Waste Removal services, so you do not have to stress about it. We pride ourselves on recycling as much waste as possible and bringing the rest to proper disposal locations. That way, your e-waste won't be left in a landfill. So take the hassle out of discarding unneeded electronics and contact us for a stress-free solution! Rest assured that your electronic items will be handled with the utmost care by our experienced experts who follow best practices.
Contact Troops Haul Junk, Charlotte, NC, and let us take all your E-Waste Removal needs.
WE PROVIDE EACH CLIENT WITH A FAIR RATE AND AN HONEST VALUE FOR A JOB WELL DONE.
Cleanouts in Charlotte, NC
Cleanouts can be necessary but often overwhelming, especially with large amounts of debris. Having to delicately decide which items can stay and what has to go can no doubt make anyone's head spin, but the result is invaluable. After a diligent cleanout, your home or workplace feels less cluttered and messy. You might even feel as if breathing is much more accessible. Doing this entire process alone can also work fine should you have the stamina; however, a challenging mess could require professionals. With sophisticated equipment and certified professionals standing ready, Troops Haul Junk, Charlotte, NC, would be the way to go! What was once monumentally stressful and strenuous will soon become uncharacteristically serene.
Veteran & First Responder Owned Troops Haul Junk, Charlotte, NC, offers cleanout services that demand attention to precision and time efficiency. With fast, same-day service available, clearing out a cluttered garage or preparing for a move is no problem. As experts in customer care with personal experience in the military or emergency service sector, requests are answered quickly with quality assurance that you won't be disappointed by. But do not take our word for it — trust customer testimonials! Everyone has experienced treatment far above their expectations. Put yourself at ease about clutter and chaos: Call Troops Haul Junk, Charlotte, NC, today for exceptional customer service toward cleaning up every mess and remarkable time efficiency.

GARAGE CLEANOUTS
As the weather warms up, it signals a chance for us to renew and refresh—a time to do a little spring cleaning of our homes! We transform our windows from undisturbed winter glazes and clear out masses of accumulated blankets from closets. As the weather gets warmer, many people bring out items stored away during the cooler months, such as stain-removal supplies and Christmas decorations. These items are now back in use. But do not forget those neglected dirty garages—they should also receive some attention! It turns out that clearing out the three-season 'junk alley'–complete with sporting equipment and DIY ambitious materials–is not relatively that straightforward. Call upon Troops Haul Junk, Charlotte, NC to rid your home's iconic space of all necessitated items stored over the cold, colored autumns and winters alike. Turning your garage from cloudy and cluttered to sunshiny sparkles takes a helping hand from professionals. So do not worry-Troops Haul Junk, Charlotte, NC brings enthusiasm and affordable rates with services suited for any storage requirements. Make spring even brighter this year for yourself sans staining and mopping by calling on Troops Haul Junk, Charlotte, NC today.
Are you in need of assistance cleaning out your garage? Look no further than Troops Haul Junk, Charlotte, NC! We specialize in offering our clients the best garage cleanout services available. We understand that time is valuable and know how busy life can get; having a full garage does not improve it. Luckily for you, our team of friendly and professional staff members is ready to offer their help. We will sort through everything, discarding any junk or odds and ends you no longer need. As a Veteran & First Responder Owned and operated business, we take matters such as client service very seriously – always eager partners in crime when it comes to assisting during times like these. Like an honorable knight promising redemption, a beauty we offer 100% satisfaction and guaranteed promise on all services provided by taking care of the details so you do not have to lift a finger.

HOME CLEANOUTS
Cleaning out your home is challenging, significantly when downsizing after a family member has passed away. In many cases, it can feel overwhelming and uncertain how to start sorting and deciding what items to keep or share with family members. Dealing with sentimental household items can be a difficult situation. It can be unclear when to dispose of them if they don't meet the needs of current or future generations and when to keep them for other purposes. When you're going through piles of stuff you've accumulated over time, it's a mix of feeling grateful for the memories that flood back as you touch the physical objects around you and yet also experiencing the frustration of not being able to find essential family documents or heirlooms that you didn't realize you had missed, and now you don't want to throw them away. In situations like these, it's often beneficial to seek assistance from a professional.
Are you feeling concerned by the amount of stuff sitting in your house? Do you need to clear out some space for a fresh start or a long-overdue move? Do not fret; our Troops Haul Junk, Charlotte, NC team has you covered. We offer home cleanouts that will take away all of your worries. With Military Precision, our hardworking staff will swarm into your home and sort through everything, tossing out all the items you do not want and tidying up what is left so it can find new life at charity or recycling facilities. Proficiency and precision based on the core values that its owners strive to maintain are of utmost priority; Your place will be brimming with improved organization and total space so that you, too, can explore having less and feel more! So call us today if you are crunched for time and need a quick fix to declutter your possessions! Troops Haul Junk, Charlotte, NC, offers an easy solution to benefit various organizations while assisting homeowners in increasing decluttering effectiveness...all with no hassle.

ATTIC CLEANOUTS
Holiday decorations, old clothes, and other items you do not use regularly can often find a home in your attic. However, storing too much in the same space can quickly clutter your room when cleaning your attic. It's essential to be cautious as fragile items may be hidden away. It's easy for people to accidentally break or ruin valuable items that you or your family have collected over time. That's why it's usually better to avoid doing it yourself.

Professional technicians with years of experience can handle the job without any risk of causing harm or destruction. This means your items in the attic will be safe and well-protected. Are you at the end of your rope trying to organize your attic? Fear not! Troops Haul Junk, Charlotte, NC, offers comfort with our Attic Cleanouts. Our team gets on-site and takes on the challenge in a way that military personnel would do – precisely. We sort through all items in your attic, determining which ones must be recycled, thrown away, or even donated!

Once we finish, we do not leave a mess behind us – contrary, your attic is thoroughly cleaned up. Even with the above, if you are looking for an efficient way to declutter your home or get packed for an upcoming moving mission, doubt no further: our Attic Cleanouts have got you covered! Contact Troops Haul Junk, Charlotte, NC, and schedule a no-cost consultation immediately.

HOARDING CLEANOUTS
Hoarding can be an issue that impacts an individual affected by it, as well as their family and friends. Over time, the items hoarded begin to accumulate to the point where the most basic physical functions are hindered; you cannot open a cupboard door efficiently, and it can become tough to navigate around. The hoard brings with it many health and safety risks on top of just generating messiness, such as fire risks, mold growth, and one of the worst uninvited guests, vermin. This can all cause significant levels of stress. Comprehending that this is an actual condition – treatable with professional help – gives relatives and loved ones hope of finding a resolution and assisted those affected in finding peace.
Troops Haul Junk, Charlotte, NC, is a Veteran & First Responder Owned company experienced with hoarding cleanouts. Our team consists of highly experienced professionals meticulously trained in approaching any hoarding condition. We sincerely comprehend hoarding as a complex puzzle that deserves carefulness and tenderness. Allowing discreetness between our clients and our services, we ensure all information remains confidential. Not only that, but Troops Haul Junk, Charlotte, NC, also offers a 100% satisfaction guarantee on every service! So if you or someone you know has relational struggles with hoarding, chances are, they need help; Troops Haul Junk, Charlotte, NC, has the answer. Reach out today for a free consultation.

COMMERCIAL CLEANOUTS
A clean and organized workplace offers numerous benefits that are important to consider. It is crucial for projecting a professional image and making a positive impression on potential clients. However, dealing with accumulated waste and unwanted items in a commercial setting can be challenging, especially when cost considerations prevent simply throwing everything away. Disposing unused inventory, old furniture, used electronics, and leftover construction materials requires proper handling. That's why it is advisable to seek the assistance of a professional service specializing in efficiently removing clutter and minimizing disruptions to business operations.
Troops Haul Junk, located in Charlotte, NC is a veteran and first responder-owned and operated company. Our team recognizes the significance of keeping a neat workplace, and we are committed to offering outstanding services at a reasonable rate. Our comprehensive cleanout services for businesses cover everything from clearing our expired stock to removing unwanted office furniture. Our experienced team is skilled in handling types to bulk items, regardless of their weight, swiftly and with precision, just as they would adhere to their military training. Look no further if you require a reliable solution for clearing your commercial property. Contact Troops Haul Junk in Charlotte, NC, and let our team assist you in restoring your space to its optimal condition.

OFFICE CLEANOUTS
Office Cleanouts is a type of spring cleaning specifically designed to declutter and organize offices. An untidy workspace can be harmful to an employee's productivity, creativity, as well as safety. When you have a room that needs more than just dusting at all corners, it could feel overwhelming, stashing away big furniture and equipment while still ensuring that the deep clean job is done right. That is why it is essential to consider calling the experts at Troops Haul Junk, Charlotte, NC when your office space needs an efficient cleanout due to scattered items and unnecessary clutter. They will help ease the daunting task with complete professionalism.
Troops Haul Junk, Charlotte, NC, is a Veteran & First Responder Owned company bringing our passion for service to help you with your office cleanouts. Whether you want to downsize or move to a new location, we can help you be free of clutter and extra furniture. We understand every business has its own particular needs, so we offer flexible services tailored to your line of business. We take great pride in reasonable value pricing, always going the extra mile to ensure our client's office is neat when we finish a job. And as a nice added incentive, we'll give you one free consultation so together we can come up with the best solution according to your requirements. Stop searching – when it comes to office cleanouts.
Contact Troops Haul Junk, Charlotte, NC, today and reap the benefits of working with professional veterans & first responders.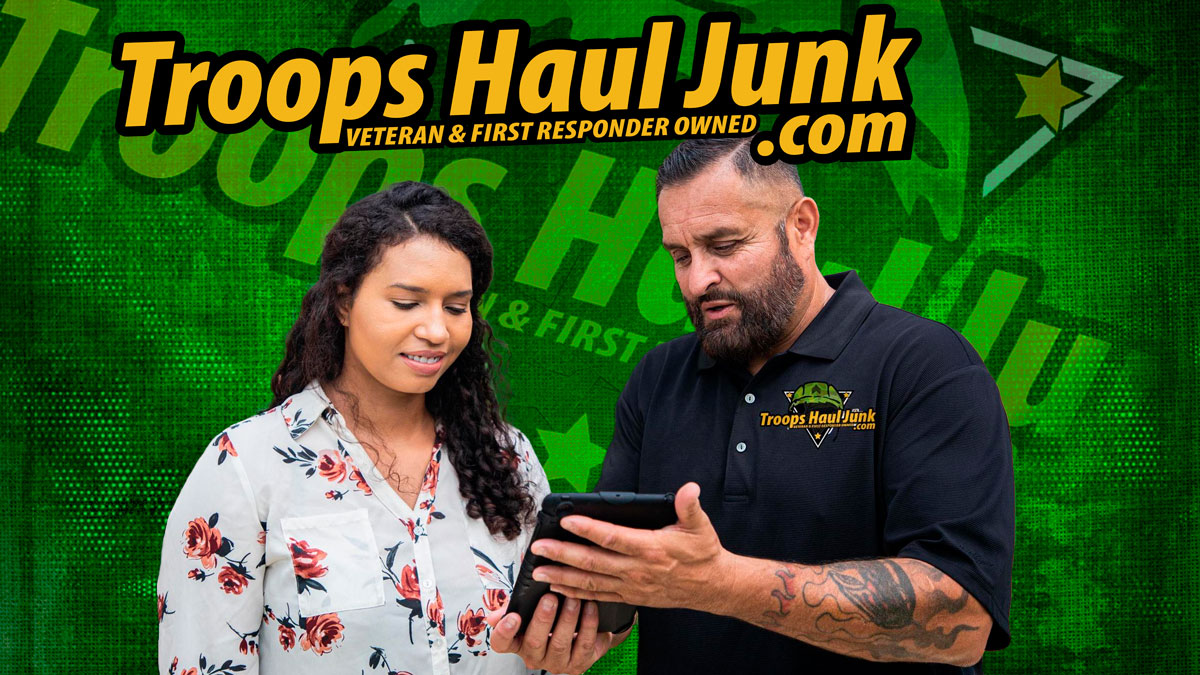 APARTMENT CLEANOUTS
If you are getting ready to move out of your apartment, you may wonder how to deal with the cleanout process. Tackle it yourself or hire Troops Haul Junk? It is a decision that requires some thought. A typical apartment cleanout could take anywhere from a few hours to a few days depending on the size of the unit and the number of belongings. Remembering that an apartment cleanout can be physically intensive is essential, so you must ensure you can handle it first.
Many people need to pay more attention to how big an apartment cleanout job can get and significantly under prepare for it; valuable items frequently get left behind or, worse yet, unintentional damage is caused during the cleaning process. The best way to avoid these pitfalls is to sign up with Troops Haul Junk, Charlotte, NC, for assistance. Are you looking for an easy way to clean your rental property or apartment? Then Troops Haul Junk, Charlotte, NC, has the perfect solution for you! Our Veterans & First Responders team is proud to offer professional apartment cleanouts now.
No matter if you are moving out yourself or dealing with the end of a former tenant's lease, our team can alleviate the hassle of clearing a rental unit. We will remove those unwanted items and the heavy lifting process that comes with them. You won't need to rent a truck or carry outdated furniture down the stairs – we bring our trucks ready to haul away all your junk quickly and efficiently. Any job, big or small, from a single-room apartment to an entire complex – we can handle it with ease! Let Troops Haul Junk, Charlotte, NC, do all the hard work for you and say goodbye to stress, time expenditure, and your dirty apartment.

BASEMENT CLEANOUTS
Basements often must be addressed in homes, as they accumulate furniture, appliances, and other items over time. Unfortunately, failing this part of your home can lead to disorganization and clutter and even pose safety risks. Homeowners should prioritize basement cleanouts, even if it seems daunting. Luckily, Troops Haul Junk in Charlotte, NC is here to simplify the process and make basement cleaning a breeze. With their wide range of services, they provide reliable assistance every step of the way. Leave the skillful and precise task of removing unwanted items to their experienced professionals. Don't worry about the cleanup--trust in their professionalism and expertise. They guarantee satisfaction and deliver efficient and high-quality results that you've never experienced before.
Troops Haul Junk, based in Charlotte, NC is ready to guide you through your basement cleanout. Our expert team is available immediately to efficiently remove all types of junk taking up space in your basement. Say goodbye to the worry and stress of not knowing what to do with the overwhelming amount of items. Troops Haul Junk services are affordable and prioritize outstanding customer care and your satisfaction. Plus, you can have peace of mind knowing you are working with a Veteran and First Responder-owned business. Basement cleanouts can be challenging or time-consuming, but our highly skilled team will do the job quickly. Contact us now for a free consultation, and let us transform your basement into the perfect living space.
ESTATE CLEANOUTS
Letting go of a loved one can be a demanding experience, mainly when that person housed the family home and kept traditions alive. Dealing with their belongings during an estate cleanout can be emotionally and physically overwhelming. From sorting through items to moving heavy furniture and handling potentially hazardous materials like asbestos or lead paint, it can quickly become too much to take on if you're overwhelmed by an estate cleanout. Troops Haul Junk in Charlotte, NC is here to help. With just one phone call, we will send our qualified team to assist you, making the process easier and faster.
Sorting through the possessions of a deceased loved one can be a challenging and burdensome task, accompanied by lingering grief and a sense of being overwhelmed with estate-related responsibilities. If you need assistance, Troops Haul Junk in Charlotte, NC is here for you. As a Veteran & First Responder owned and operated company, we must serve the community in any way we can. Our dedicated professionals understand your emotional state and will treat your family respectfully and sensitively during this difficult time. Our services are comprehensive, not only removing unwanted items from the premises but also leaving your space orderly and clean. If you require estate cleanout services, please don't hesitate to contact Troops Haul Junk in Charlotte, NC. Our staff is readily available and eager to assist you whenever you need us.

FORECLOSURE CLEANOUTS
Foreclosures are a sad reality many homeowners face. The foreclosure process can often take a lengthy amount of time, resulting in the home falling into disrepair. When the foreclosure is officially over, the house may be in complete disarray, with personal items and furniture scattered around the area. It's time for foreclosure cleanups to come into play! Foreclosure cleanouts are a specialized type of cleaning service whose primary focus deals with effectively organizing homes that have been foreclosed on. Frequently when previous owners move out of their homes, it leaves an extremely tough mess for newcomers to deal with alone. However, you can handle this daunting task; Troops Haul Junk, Charlotte, NC, is here to ease your uneasiness and provide professional foreclosure cleanout services up to par with your satisfaction levels!
Troops Haul Junk, Charlotte, NC, a Veteran & First Responder Owned company located in Charlotte, NC, has been helping homeowners with their foreclosure cleanouts for years. We understand the challenges associated with foreclosing and strive to make this process as simple as we can. We can remove the burden from you by ensuring all items needing to be discarded are taken care of while we do all that heavy lifting and hauling! We understand the importance of convenience, so we collaborate closely with you to find a mutually suitable date and time. This way, you can focus on other matters related to your foreclosure situation. Don't hesitate to contact us today. Let us tend to the sorting and disposal so you can plan for the future instead of remaining in the past.
Light Demolition in Charlotte, NC
Many home improvement projects can be completed in a snap if you are the handy homeowner--painting, tiling, and garden maintenance. However, light demolition projects require special consideration due to safety hazards and the likelihood of causing severe structural damage. Removing walls or pulling up flooring is tricky, especially if the demolished wall is load-bearing! Only experienced experts have the know-how necessary to undertake this job safely without bringing your entire house down on top of them. What about hazardous materials during light demolition?
Asbestos, for instance, can only be removed safely by those with specific skills and providing adequate protective gear beforehand, which amateurs do not possess. Therefore, it is best to remain cautious when attempting home renovations or call on Troops Haul Junk, Charlotte, NC, just to be safe! Safety comes first, after all! When you need light demolition services, troop no further than Troops Haul Junk, Charlotte, NC. Our team of experienced Veterans and First responders is ready to help you with any project--tear down an old shed, remove a deck or fence--you name it, we do it. Every remodeling job is a manageable size; our personnel can complete your gutting project quickly and precisely. For exemplary light demolition services, call us at Troops Haul Junk, Charlotte, NC, and one of our team members will gladly assist you.

SWING SET REMOVAL
Swing sets. Ah, a parent's dream for backyard fun. As any parent knows, these playsets are a great way to keep kids engaged in outdoor activities. However, many children grow out of playing in their swing sets as they age. At this point, the beloved playset can sometimes look outdated and become an unwelcomed eyesore; thus, the problem of removing such a large and heavy chunk of structure begins. In addition, the task of eliminating concrete footings brings along another array of unique challenges. Hire Troops Haul Junk, Charlotte, NC, for your swing set removal needs! Saving you time and effort (not to mention your back!) Troops Haul Junk, Charlotte, NC, does it quickly, safely, and correctly making them your best option by far.
Say goodbye to the clutter in your backyard with swing set removal by Troops Haul Junk, Charlotte, NC Kids grow, and soon those swings, slides, and trampolines become eyesores that take up much space! With the help of our team's veterans and first responders, we'll come to your home and expertly disassemble your unused material for transport at an unbeatable price to fit any fixed budget. Do not forget to ask about our trampoline removal and other related services, too — let Troops Haul Junk, Charlotte, NC, be part of your journey to achieving a hassle-free space to create new memories together. Reach out if you're looking for more information on swingset removal. Our friendly staff would appreciate connecting with you soon.

BATHROOM DEMOLITION
Any home renovation is sure to be a bit chaotic, but none more so than a bathroom demolition. Your restroom goes through daily use, and it will eventually show its age. To start fresh, many opt for a complete remodel from the ground up; however, such an endeavor carries heftiness. Breaking down toilets, vanities, and showers is no small feat, coupled with disassembling tile, drywall, or other material. If you are getting ready to tackle a bathroom or remodel, why not call our helpful crew at Troops Haul Junk, Charlotte, NC? We are here to ease the worries of uncertain first-time renovators and adeptly take on countable missions. Are you ready to update your bathroom but dreading the task of demolition? Do not worry because Troops Haul Junk, Charlotte, NC, is here to handle it.
We are thrilled to announce that we now offer Bathroom Demolition services to help the process be as stress-free and easy as possible. Bathroom Demolitions completed by Veterans & First Responders guarantee they will work quickly and efficiently to remove old fixtures, tiles, and any debris process. With our help, you will find yourself one step closer to completing your dream bathroom – and possibly even your entire house if you do a complete renovation! We supply bathroom demolition and have many other junk removal services, such as kitchen demo jobs, basement cleanouts, etc. At Troops Haul Junk, Charlotte, NC, we cut costs and time so our services remain simple and cost-effective. If you'd like additional information on how Troops Haul Junk, Charlotte, NC, can assist with reaching your goals, please do not hesitate to contact us and let us know! We also come by for a free consultation at your convenience – so do not wait a minute longer. Give us a call today.

ABOVE-GROUND POOL REMOVAL
Above-ground pools offer a refreshing oasis and make summertime enjoyable, even in the scorching heat. However, removing this excellent addition from your backyard can be costly, time-consuming, and labor-intense. You'll have to dismantle the pool frame, whether wood, plastic, or metal. And let's remember all the components involved, such as tricky valves for pool pumps, sides, and pipes. Additionally, you'll need to handle the disposal of ripped liners, with their blocky patterns, and take care of the remaining water. If these daunting tasks feel overwhelming to handle alone, there's no longer a need to wait. Give Troops Haul Junk in Charlotte, NC a call, and they'll assist with your requirement.
As summer comes to a close and it is time to take down the pool, many are left wondering how to do it themselves. That is where Troops Haul Junk, Charlotte, NC steps in! Our Veteran & First Responder Owned business offers Above Ground Pool Removal services; we will take care of everything-disassembling, hauling away, and disposing of it properly in an eco-friendly way! Removing an above-ground pool can feel tricky, but do not worry; we have the experience and the professionals to ensure everything goes smoothly. So if you want to clear some space in your yard, seek assistance from our experts by requesting a free estimate. You will be one step closer to making your perfect backyard vision come true with the best specialists on hand. We look forward to giving you back your backyard bliss again

PERGOLA REMOVAL
For any gardener, having a pergola in their garden is often very desirable. Providing essential shade and shelter for plants, adding a type of architectural structure to your garden can enhance its setup. While it is easy to build and attach a pergola, they can be pretty, large, and unwieldy, not to mention challenging to remove when they are no longer needed. Removing such a bulky structure requires specialized equipment and even more experience. Along with this comes the ever-worrying factor: if it is attached to the property (i.e., house or other building), something else could be damaged if you remove it incorrectly. That is why generally, the best option for pergola removal is to commit the job to Troops Haul Junk, Charlotte, NC. Our experienced professionals handling your pergola removal relieve a potential obstacle from any gardener's affairs efficiently and quickly.
At Troops Haul Junk, Charlotte, NC, we understand the challenge of taking on DIY home upkeep tasks like pergola removal—which is why we offer our convenient and affordable professional service. No matter what service is needed, we guarantee a strong work ethic and a dedication to customer satisfaction. As a bonus for working with us, you will benefit from our premium quality service that leaves your property clean and clutter-free. So when you need quality junk removal services, call us at Troops Haul Junk, Charlotte, NC—we will gladly assist.

FENCE REMOVAL
Fences can often be seen in many neighborhoods, providing us with various purposes. From providing safety to children and pets to granting us much-needed privacy around our homes, fences help create an attractive backdrop for residential life. But when it may come time for fence removal, the task can turn quite daunting. The size and weight of a fence can make demolition that much more difficult. Since improper fence removal could inadvertently damage lawns or landscaping nearby, it pays to work with experts at Troops Haul Junk, Charlotte, NC, when the task arises.
At Troops Haul Junk, Charlotte, NC, we understand the importance of protecting your home, the place you call your castle. Our team specializes in a wide range of services, such as fence removal for people replacing an old fence or clearing some needed space in their yard. We have highly competitive prices and proudly serve as a Veteran & First Responder Owned company. When you choose us to help you with your fence removal needs, you can be sure that you will receive the highest quality care from our highly experienced and dedicated workers. We can efficiently remove your fence and clear away any debris afterward so nothing will be left behind. At Troops Haul Junk, Charlotte, NC, we pride ourselves on providing the utmost respect and quality service under any circumstances! Reach out today to learn more about how our fence removal services can help beautify your property by quickly removing unwanted fencing.

SHED REMOVAL
Not everyone sees old sheds in the same light. Where some perceive them as an eyesore, others may use one to store their garden supplies, tools, or extra furniture. However, removing the shed can seem a daunting prospect. Sheds tend to be large and unwieldy objects, often attached cemented firmly to houses, only to move with expert help. Shed Removal is a time-consuming task requiring deconstruction and post-disposal effort, which makes enlisting professionals skilled in such work ideal. For those needing assistance with this challenging endeavor, Troops Haul Junk, Charlotte, NC, is happy to do the job for you and alleviate all your woes!
Troops Haul Junk, Charlotte, NC, a Veteran & First Responder Owned and operated business, specializes in Shed Removal. We prioritize providing a quick yet efficient service to make sure your shed is removed when you are ready for it to be gone. Our team will come to your home, dismantle the shed, and safely transport the pieces of your property. Our team will clean the area, so you won't have to worry about a thing. Remember that our business boasts a range of other junk removals services, such as debris disposal, hot tub removal, swing set removal, and much more! So whether you are looking for someone reliable to haul away your old shed or any other junk material, know that Troops Haul Junk, Charlotte, NC, can quickly provide it all.

DECK REMOVAL
Owning a house involves many tasks that must be taken care of — from delicate glass windows to leaky roofs. Depending on the scenario, some errands, like deck removal, can be daunting for a first-timer. Deck removal requires professionals with specialized training and specific heavy equipment, which take time and resources to acquire.
To help you safely and practically remove your deck, Troops Haul Junk, Charlotte, NC, offers experienced and efficient deck removal services. Do you need help deconstructing a deck for removal? You can turn to Troops Haul Junk, Charlotte, NC, a full-service junk removal company and Veteran & First Responder Owned business. We have the experience and equipment to safely and quickly remove your deck and any debris.
Deck removal is not our only offering either – we profile everything from hot tub removal to shed removal. We are aiming to deliver only the best customer service. Each part of the process is designed to your satisfaction and performed swiftly and on point. Contact Troops Haul Junk, Charlotte, NC, for more information on services or to book your FREE consultation.

KITCHEN DEMOLITION
The kitchen is usually the most used room in the home. Creating a comfortable working, eating, and socializing atmosphere should be your goal. Is your kitchen showing signs of wear and tear? If so, it may be time for a renovation. Before applying DIY tips or calling professionals, one must overcome an unavoidable first step: demolition. The demolition process can be extremely messy and dangerous if not approached carefully. It is essential to properly lay out plans and take necessary safety precautions when tearing down materials like countertops, flooring, cabinets, etcetera. If you are inexperienced in the area and have doubts about undertaking the project alone, please call Troops Haul Junk, Charlotte, NC.
Are you considering a kitchen renovation? Let the experts at Troops Haul Junk, Charlotte, NC, a Veteran & First Responder Owned and operated business, do all the hard work for you. We offer free estimates to make sure our services are within your budget. Our experienced professionals will clear out all the appliances and cabinetry, remove countertops and flooring, and dispose of all the remains of your kitchen demolition project. To top it off, we provide prompt and accurate service—we work with military precision! Contact us today to schedule a free consultation and receive a quote on getting your kitchen demolition done as efficiently as possible.
WE ARE READY TO WIN 
THE WAR ON JUNK
ABOUT OUR ECO-FRIENDLY PRACTICES
In today's world, it is important to be eco-friendly whenever possible. That's why Troops Haul Junk offers environmentally friendly junk removal services to our clients. We understand that many people are concerned about their junk's environmental impact. We take care to dispose of all items in the most sustainable way possible. We recycle or donate everything we can, only landfill items that cannot be reused. As a result, clients can rest assured that junk will be handled in the most eco-friendly way possible when they choose Troops Haul Junk. In addition, our reasonable rates and exceptional customer service make us the optimal option for anyone seeking junk removal services.
CONTACT US
If you are a Veteran looking to make an impact and get rewarded for hard work, then Troops Haul Junk could be the perfect fit. Our team provides excellent customer service and junk removal excellence, but we don't stop there! We provide opportunities for ambitious individuals eager to make a difference today – your new future awaits.